TRINIDAD and Tobago clubs made a clean sweep of the 15th edition of the Diamond Mineral Water Hockey Festival that concluded on Sunday evening at the Cliff Anderson Sports Hall, which meant that they were able to gain revenge on their local counterparts, who had dealt them a similar hand in the finals of the 2018 festival.As if the 2019 finals were scripted, it again came down to a penalty shootout to dictate the male winners, but unlike the 14th edition, where the Pepsi Hikers had triumphed, this time it was the visiting Queen's Park Cricket Club (QPCC), who would end with the championship trophy.Meanwhile, George United and QPCC registered wins in the finals of the female and Over-35 competitions respectively.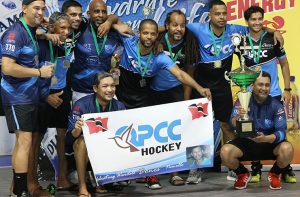 QPCC also won the Over-35 title.George United withstood a spirited run by the GBTI GCC Tigers, while four goals from Raphael Govia and three from Jerazeno Bell spurred QPCC to a three-goal victory against Bounty GCC Vintage in the Over-35 battle.In the male final, QPCC were able to score three quick goals in the third period after both sides were scoreless at the half. The Hikers though batted back with Jamarj Assanah, Aroydy Branford and Andrew Stewart all finding the back of the net to leave the score tied at 3-3 by the end of regulation.It then came down to penalties, and QPCC made no mistakes to win 3-2.Earlier, QPCC had also won the Lucozade Over-35 final by an 11-8 margin, owing to an early dominance.Govia had scored twice, and Bell had scored one of his goals early to carry the visitors 4-0 ahead by the end of the first quarter. Although Kevin Spencer single-handedly led GCC's comeback with a game high, six goals, five of which were consecutive, GCC could not match the firepower of their opponents.The ExxonMobil Women's final was also an exciting clash as the local women battled back from four goals down, but again it was not enough as the clash ended 5-4 in favour of the T&T team.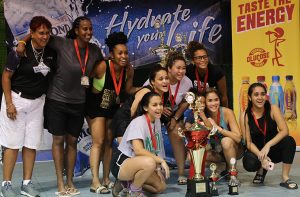 George United captured the female title.Brittney Hingh scored the opening goals for the winners, before captain Brianna Govia scored a pair and Savannah de Freitas sealed the win.For the GCC Tigers, Captain Sonia Jardine opened the scoring in the 28th minute, before Princessa Wilkie made it 2-5 in the 32nd minute. Although Marzana Fiedtkou and Gabriella Xavier also found the back of the net, time ran out on the Tigers' run, which left the game at 5-4 in favour of the visitors.